Petition registration and contacts for Canadian and US Electrical/Electronic Equipment Manufacturers. ( Includes Government Contacts ) CLICK HERE
UPDATE July 23, 2009 :
The ESA Manufacturers Registration and Fee Scheme is to be Withdrawn !
As we had indicated to all registered protesters in the last update email, we agreed to post our presentation of our Case Against the ESA Scheme on this webpage following its delivery to the Ontario Government. The file is in PDF format and was presented on July 14, 2009 to a Senior Policy Advisor in the Ontario Government. You can view the presentation here ( ESAFinal3.PDF ( 1 MB )). Please note that we have removed our customer information for confidentiality reasons.
And now the good news....on July 23rd we were informed by the Director of Policy with the Ontario Government that the ESA Manufacturers Registration Scheme is to be withdrawn, and all companies who registered will be receiving a refund.
"Thank you" to all who supported us through, letters, emails, donations etc. in the effort to defeat this misguided effort by the ESA to tax manufacturers.
"Thank you" to the Ontario Government who had the courage to withdraw this embedded effort by the ESA. I, and others, have renewed faith that the government does, and will listen, and that Ontario truly is " OPEN for Business"
On that note we have canceled our " Ontario CLOSED for Business" ad campaign that was set to begin next week in the National Post. The only ad released to the pubic was 17/20 shown below. The main goal of our presentation was to help educate the government about the role manufacturers of certified electrical products play in product safety as we truly believed they simply did not understand.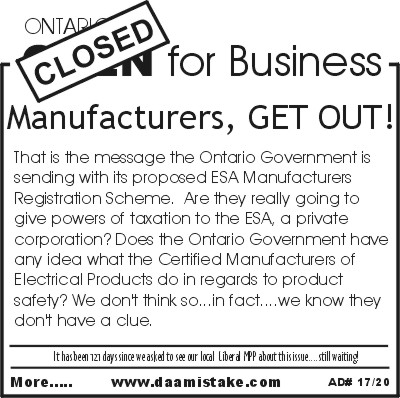 Well, it seems they do understand and so, it is with great enthusiasm that we end our campaign and get on with the business of manufacturing safe, certified electrical products, here in Ontario, for a world market.
Thanks again to all of you for your efforts.
Tom Fortin
Director, Ontrak Control Systems Inc.
EMAIL: esaprotest@ontrak.net
---
IMPORTANT: If you reveived a letter dated Jan 13, 2009, from the ESA via your CB ( CSA, UL, TUV etc) DO NOT register or pay any fees to the ESA. You are under no legal obligation to do so.

What is this all about?

The Ontario Government has been expanding its DAA ( Designated Administrative Authority ) model to various industries over the past few years. The DAA model is a process by which the Ontario government SELLS a part of its mandate to a private company in return for a yearly fee ( $250,000/Yr in this case) The private corporation who pays to be the DAA for certain government functions is then given authority to levy fees via licenses and administrative penalties where the DAA has a legal monopoly over a particular industry or function. The DAA model is severely flawed in that when a private corporation is given a monopoly over industry functions it is inherently expansionist and is always looking at new ways to extract fees from stakeholders to support its operation. ( More on the flawed DAA model later! ) Ontario residents who heat with oil, no doubt know about the TSSA, a DAA and sister company to the ESA. The DAA in this case is the Electrical Safety Authority of Ontario ( ESA) , a private corporation , and its mandate in regards to electrical/electronic product safety is to play a reactive role when issues of product safety arise. They may investigate fires caused by electrical products or issues involving counterfeit electrical products. The ESA has spent $68,000 building a website to inform consumers of safety issues regarding electrical/electronic products and supports a small staff to investigate complaints. This function was previously performed by the Ministry of Small Business and Consumer Services which made it publicly funded as it is in the US, EU , Australia and virtually every other country in the world. The ESA has been having difficulty funding its operation as revenue from fines and fees assessed on offenders were not sufficient to cover the costs of its program and the fees it pays to the Ontario government for its authority. Now the ESA is attempting something no other DAA has yet done. They have resorted to direct taxation on what they call "stakeholders" ( world-wide certified electrical/electronic manufacturers ) to fund their operations.

A letter written on January 13th, 2009, by the ESA was sent to up to 20,000 electrical/electronic manufacturers throughout the world informing them of their alleged obligation to register with the ESA and pay them yearly fees ( TAXES ) for the privilege of selling their products in the Province of Ontario, Canada.

The letter can be viewed here: Manufacturers Obligation PDF 34K

The specific paragraph detailing the alleged claim is as follows

Initial registration will cost $350 and yearly renewal will cost $300/year. Your registration will be required in addition to a recognized certification mark or field evaluation label for electrical products to be approved for sale in Ontario. Products failing to meet these requirements will be considered "unapproved" and subject to investigation, public notification and fines.

This statement implies that manufacturers must register and pay yearly fees to the ESA or their products will be considered "unapproved" for sale in Ontario making them subject to fines if their products are sold in the Province of Ontario either directly or indirectly.

Curiously, Ontario Regulation 438/07 specifically defines an approved product as:

Deemed approvals

1.

2. (1) An electrical product or device that falls into one of the following categories is deemed to be approved:

1. An electrical product or device for which a certification body has issued a report certifying that the electrical product or device conforms to the applicable standards for the electrical product or device and,

i. the report is available to the Authority from the certification body,

ii. the electrical product or device complies with all standards of design and construction and allterms and conditions set out in the report, and

iii. the electrical product or device bears the certification body's mark, which identifies the electrical product or device as certified for use in Canada.

( Category 2 and 3 not displayed as they are irrelevant for the purposes of this discussion. )

Given that the letters were sent to manufacturers via Cerification Bodies ( CB's ) such as CSA, UL, TUV etc, virtually all of the letter recipients certified products would be deemed approved regardless of whether or not registation is made and fees are paid to the ESA according to O.R 438/07 as it stands today.

We sent a letter to Mr. Norm Breton of the ESA concerning the legality of the registration and fee structure and you can view it here: Breton PDF 88K

They have yet to provide any specific legislation giving them the powers of taxation. It seems the ESA has gone ahead with their scheme WITHOUT yet having legal authority to do so!

What is wrong with the ESA Manufacturers Mandatory Registration and Fee Scheme?

There are several reasons the ESA Manufacturers Registration and Fee Scheme should be withdrawn.

1. The ESA Registration and Fee Scheme constitutes a market access fee.

The ESA scheme is essentially a market access fee as the ESA has no function in product design or manufacture in regards to product safety and admits as much. Imagine if other provinces or states were to follow the lead of the ESA. Small and medium manufacturers would be subject to fees in the tens of thousands of dollars. This action not only contravenes NAFTA, but will severely affect the viability of small manufacturers if its model is adopted by other jurisdictions. At present NO OTHER jurisdiction in the world imposes a market access fee for electrical/electronic products.

2. The ESA Registration and Fee Scheme undermines harmonized electrical safety standards developed over decades by certification bodies.

Harmonized safety standards, developed over decades have continuously evolved to ensure certified electrical/electronic products are safe. Products manufactured to these standards are accepted worldwide as safe. The ESA is now saying that all this work is no longer sufficient for a product to be considered safe unless fees are also paid to them. Considering they have NO role in product design, manufacture or the ongoing development of products, is this not simply a money grab by a private corporation enabled by the Ontario government?

3. Stakeholder representation was severely flawed in the development of this model

20,000 copies of the ESA letter were sent to manufacturers throughout the world and their representation is listed in the ESA business case as being ElectroFed , LG and Eaton. Two multinational companies and one group representing less than one hundred multinationals does not constitute representation for the 10,000 manufacturers the ESA expects to have registered by year three. Consider that over 97% of these companies are small businesses who had NO representation in the building of this model. Further, in a standard form letter now being sent in response to the hundreds of complaints about the program the ESA states that manufacturers unanimously consented to the program. This is a deception, as we can see the comments submitted by NEMA ( National Electrical Manufacturers Association ( US ) ) in the ESA Product Safety Business Case Feedback Summary and Response ( SEE BELOW ) where NEMA states their strict opposition to the scheme. Considering the NEMA members ( 447 ) would constitute a large portion of ESA revenue, why were they not considered stakeholders? Also, why was NEMA the only manufacture or manufacturers association to provide feedback to the scheme? How many small businesses were given the opportunity to comment? Did ElectroFed even consult with its membership about this important issue? I think you know the answers to these questions.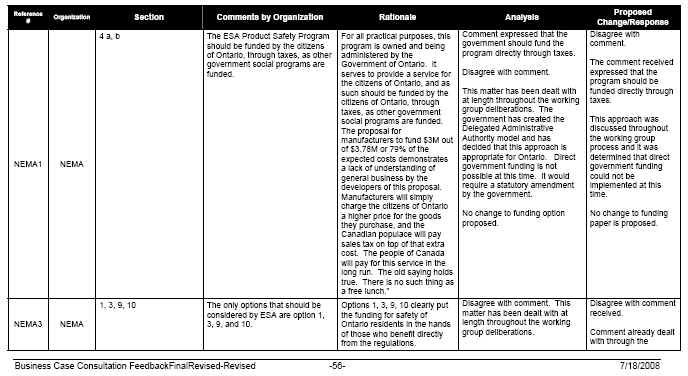 4. The ESA data gives the false impression product safety is an epidemic problem where real data shows product safety has continually improved due to harmonized safety standards.
Data obtained from the Ontario Fire Marshals Office shows that fire due to Appliances ( includes all electrical/electronic products ) have been in steady decline over the past 10 years up to 2007 when the ESA began its program. Most notable is the decrease in injuries per year falling form 30 in 2003 to 10 in 2007. Fatalities are constant at 0.5/year. This data demonstrates the effectiveness of the continuously developing worldwide harmonized standards for product safety. Even with the steady per capita increase of electronic/electrical devices in the 4.7 million households in Ontario fires and injuries are in decline. We are further parsing the data as we believe the vast majority of the fires are due to misuse of products by consumers. The ESA does not use any real data in their business case or presentations. They only speak of Product Safety Complaints. They demonstrate how these complaints are rising in graphs and give the impression the product safety problems are an epidemic. The data they present is simply due to the popularity of their website. The real data shows no epidemic problem with electrical/electronic product safety.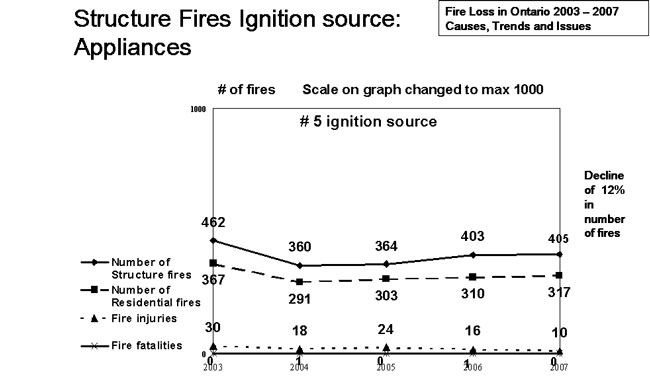 5. Manufacturer Registration is Redundant as manufacturers of certified products can be found using existing on-line electronic data bases.
Part of the harmonized product safety certification process mandates proper labeling so that any competent person with a computer and internet connection can visit the CSA, UL or TUV ( and others ) websites and enter a file number from a certified product label and identify the manufacturer. You can try this yourself at:
http://directories.csa-international.org/ ( CSA marked products )
http://database.ul.com/cgi-bin/XYV/template/LISEXT/1FRAME/index.html ( UL marked products )
http://tuvamerica.com/tools/clientlists/certs.cfm ( TUV marked products )
The ESA does not need a product registration database as one already exists through the CB's online databases. Does this not make the Manufacturer Registration simply a way to TAX manufacturers to pay for ESA activities?
Petition registration and contacts for Canadian and US Electrical/Electronic Equipment Manufacturers. ( Includes Government Contacts ) CLICK HERE
More to follow when time permits.......
To view one of the letters sent to the minister outlining our protest CLICK HERE PDF 917K
Petition registration and contacts for Canadian and US Electrical/Electronic Equipment Manufacturers. ( Includes Government Contacts ) CLICK HERE
Coming Soon.....
VIDEO 1 - About Product Safety and Electrical/Electronic Equipment Manufacturers
VIDEO 2 - Is the Ontario Government About To Give Powers of Taxation to a Private Corporation?
VIDEO 3 - One Competent Person = Certified Product Registry
SPONSOR an ad in an Ontario Newspaper to inform manufacturers and consumers about the impending change to Ontario Regulation 438/07.
ESA Business Plan Markup