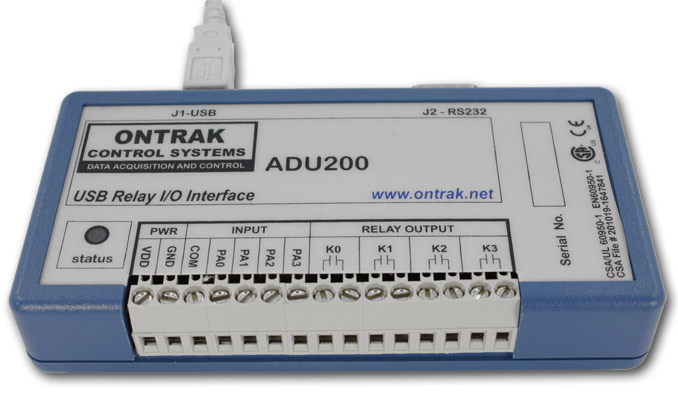 Overview
The ADU200 USB Relay I/O Interface allows control of 4 relay contact outputs, 4 contact or TTL inputs, and 4 event counters via a USB port. The ADU200 can effectively convert a standard PC to a powerful PLC ( programmable logic controller ). High quality PA-Series relays from Aromat offer superior performance.
Input Connections:
The ADU200 features 4, ISOLATED digital inputs labeled, PA0 to PA3.
Dry contact inputs such as PLC contacts or pushbuttons can be connected to the digital inputs using the 5V power output of the ADU200. In this case, GND and COM and shorted and contacts are connected between VDD and the appropriate digital input.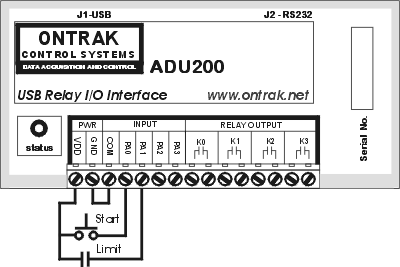 Figure 1: Contact Inputs
Figure 2 shows the connection of the same contact inputs using an external power supply. Note that in this case, no connection is made to the VDD or GND outputs of the ADU200.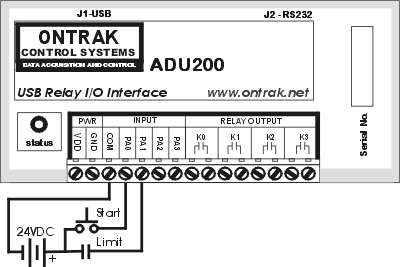 Figure 2: Contact Inputs ( 2 )
Output Connections:
The ADU200 features 4, 5 amp, relay contact outputs labeled K0 to K3.
AC or DC loads can be controlled simply by using these contact outputs to switch the external supply to the external load. Figures 3 and 4 show basic output connections.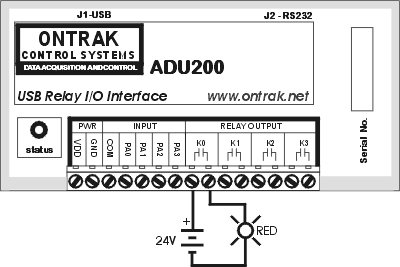 Figure 3: DC Loads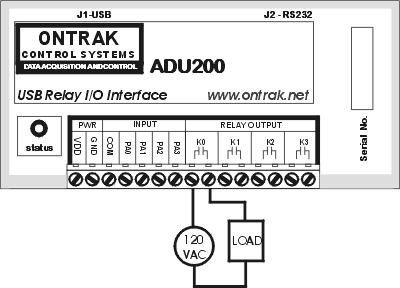 Figure 4: AC Loads